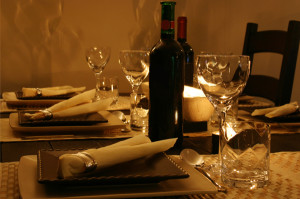 Wine
Complimentary glass of Red or White Wine
Appetizers
Bruschetta
Traditional topping of diced tomatoes, fresh basil, garlic and olive oil served with toasted bread
Spinach or Artichoke Dip served with pita or crackers Or Innkeeper's Special Choice
Italian Romaine House Salad
Romaine lettuce, artichoke tossed with prepared lemon vinaigrette and parmesan cheese
Entrée
Beef Morcon  (Innkeeper's signature dish)A type of  Beef Stew slow cooked seasoned with soy sauce, tomato sauce, celery, onions garlic  served with rice or mashed potatoes.
CRUSTED FLOUNDER –
Pan Fried crusted flounder seasoned with  fresh lemon, good olive oil, freshly ground peppercorns.   served over orzo or rice with creamy gravy on the side.
Chicken Adobo -(Innkeeper's Signature dish)
This slow cooker chicken recipe(Filipino chicken adobo) layers chicken thighs uses a blend of garlic, vinegar, and soy sauce to give chicken a zingy boost, served over steamed rice. It is tender falling-apart chicken in a tangy, vinegary garlic sauce,
Chicken Marsala
Oven Roasted chicken breast with mushroom marsala sauce served over wild rice and vegetable of the day
Dessert
Triple Chocolate Cake or Innkeeper's Choice
Regular or Decaf Coffee or selection of Teas
We are proud to serve Tom's Ice Cream, a local favorite  
$38.00 per person
(Tax and Gratuity not included)
Dinner reservations and main course selections are required 48 hours in advance. 
Please call Joy Rothenberg for additional dishes.